How will BiH cope with the global energy crisis and whether it plans to build nuclear power plants
The energy crisis is currently affecting the whole world, and is a consequence of the invasion launched by the Russian Federation in Ukraine, thus bringing relatively stable imports of oil and natural gas into a situation where prices fluctuate almost on a daily basis.
We talked to electrical engineer Emir Dizdarevic from the State Regulatory Agency for Radiation and Nuclear Safety about the options for BiH to deal with this crisis and whether we have the capacity to ensure energy self-sufficiency with our own forces, using, for our conditions, unusual energy sources.
Energy prices on the world market began to rise in December last year after Western intelligence services reported the presence of Russian military forces on the border with Ukraine.
Such actions resulted in the launch of an invasion of that state three months ago. The unilateral action of the third country in terms of energy exports in the world – Russia, affected everyone because the fear of the disappearance of certain goods or products consequently artificially raises prices in all other dimensions of dominoes.
By the logic of such events, BiH finds it difficult to cope with such developments on international markets as a country with an estimated gross domestic product of 19.79 billion dollars. For those citizens who use gas for heating during the winter, the bills have already doubled since last year. At the beginning of this year, the prices of pellets jumped by 200 KM, and even more, so now the price of one ton is over 600 KM. Electricity bills remain unchanged for households for now, while business associations have previously pointed out that electricity bills paid by businesses are legal violence.
As an alternative to filling the heat and electricity market, BiH could increase production in coal mines. However, there are obstacles to the EU's intention to reduce carbon dioxide production in the next few decades, as part of measures to reduce global greenhouse gas production.
For example, the Czech Republic has found a way to use spent nuclear fuel elements to generate heat, thus eliminating the use of coal in thermal power plants. Scientists from the Czech Institute of Informatics, Robotics and Cybernetics believe that the use of such fuel for heating would be 50 percent cheaper than heating with gas.
What is the energy strategy of BiH?
The strategy of decarbonisation of the EU is an obligation of BiH as a state that intends to become a member of this bloc, so in recent years we could hear criticism of the plan to build Block 7 of Tuzla thermal power plant, which is why sanctions were announced on several occasions.
"As for the document at the level of BiH, it is about the Energy Strategy adopted by the Council of Ministers in the last convocation, which in fact implements two energy strategies of the Republika Srpska and the Federation of BiH through its Framework Strategic Plan. They are valid until 2035 and within them it is not mentioned, ie BiH has no plan to get electricity from nuclear sources, "Dizarevic said.
Each country begins the process of building nuclear facilities by passing legislation regulating the construction and operation of such facilities from which to obtain energy.
"It is essential to prepare in the long run. What is preparation? If you make a strategic decision, a political decision, you must start with certain procedures which consist of first providing financial resources that are insufficient if you do not have the power. You must have faculties to train nuclear. engineers, which takes at least 10 years. They would monitor the construction of such facilities, "Dizdarevic said.
Nuclear power plants in the world
There are currently 440 nuclear reactors in operation in 32 countries, which account for 10 percent of world electricity production.
At the moment, there are many countries called Emerging Nuclear Energy Countries (ENEG), ie countries that are in the program of building nuclear facilities from which electricity is obtained. Turkey is in the program of building the first nuclear power plant. It has signed an agreement with the Russian Federation and they are building 4 reactors of 1050 MW each, a total of 6000 MW of one nuclear power plant with four reactors, which is more than the whole of BiH has installed electricity sources, and in thermal, hydro and renewable sources, wind farms and photovoltaic power plants, "he said. Dizdarevic.
The construction of nuclear plants is an investment of 20 billion dollars, and Turkey plans to build three more power plants, each of which should have four reactors. In addition to Turkey, other countries aim to diversify energy sources.
"I think the agreements were with Japan and South Korea. The approach is to make one diversification of nuclear sources from several producers or countries. carbon dioxide neutral, and in addition, China has said that they will become 'carbon neutral' as the world's biggest polluter by 2060, but that needs to be replaced. , they even have their technology in Pakistan and more than 40 reactors are now operating in China.Asian countries are especially now in progress where they want to have more energy obtained this way because it is neutral energy.One of the reasons is that this energy is not released into the atmosphere is carbon dioxide and sulfur oxides ", Dizdarević pointed out.
Currently, EU countries have different approaches to nuclear power plant issues. A bloc of countries that consider such energy "green" is led by France, and Germany was committed to shutting down existing nuclear power plants before this market crisis, but the process is likely to slow down now.
"In the EU, you have countries led by France as a country that has mastered nuclear technologies and that gets more than 60 percent of its electricity from nuclear sources, and you have Germany that is abandoning nuclear sources because they have decided that their needs will be with electricity from renewable sources and switched to natural gas.Now there is a problem and Germany's decision to close all nuclear power plants by the end of 2022 and replace it with other sources because Russian natural gas causes these plants to work to extend their life. The plan was to disintegrate, "Dizdarevic said.
The main problem is in the process of operating nuclear reactors that use nuclear fuel.
"It is consumed and becomes a resource for reprocessing from which nuclear fuel is recovered, but in the process high-level, radioactive waste is generated. To dispose of this waste, you have to take care of it for many years and build facilities for its permanent disposal. In order to build such a facility, you must obtain the consent of local communities with which you will agree on where to build such a facility, and without it you can not even start a nuclear program and build a nuclear power plant because all international standards say that when construction begins, "A nuclear facility will also be provided to house any spent nuclear fuel, high-, medium- and low-activity radioactive waste. Such facilities must be taken into account for many years due to the half-life of uranium or plutonium nuclear material," Dizdarevic said.
He believes that the announcement by Serbian President Aleksandar Vučić that the country could move towards building nuclear power plants to deal with fluctuations in energy prices on the market is something that will take decades, and that such a plan should include the length of training. which would control the operation of the reactor.
Serbia may have a plan, but in order for that plan to be realized, it will take a long time and provide funds, educate staff. Belgrade faculties have not trained nuclear engineers for the last 30 years. They have staff at the Vinca Institute of Nuclear Sciences who can cover certain parts in the process, but it is not enough.They need to provide a location for the construction of such a facility that should be close to a strong water source, ie a river, maybe the Sava or the Danube.If it is at the border, it is necessary to agree with neighboring countries and certainly provide nuclear facilities for disposal of radioactive waste ", said Dizdarević.
He states that the issue of building nuclear power plants is not simple and that a strong legislative framework must be created with institutions that will license and issue work permits, and that operators must be established to lead and monitor the process of nuclear power plants.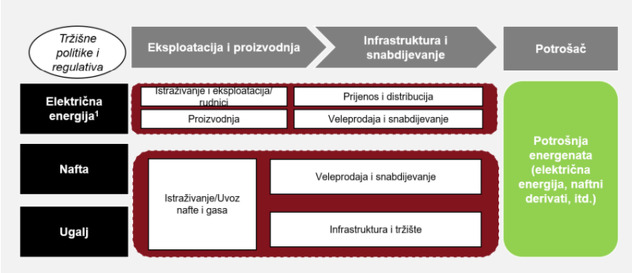 In the Western Balkans region, the countries that have active nuclear projects, regardless of their stage, are Croatia, Serbia and Albania. BiH's energy strategy does not envisage the construction of nuclear power plants, but is based on coal exploitation, oil and gas imports.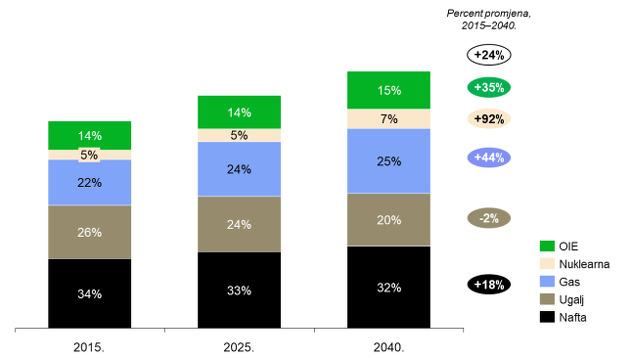 The Framework Energy Strategy of BiH states that it is believed that the use of nuclear energy will increase by 2040, and that natural gas will displace the use of coal as the second most used fuel.
Link: https://www.klix.ba/biznis/privreda/kako-ce-se-bih-nositi-sa-svjetskom-energetskom-krizom-i-planira-li-izgradnju-nuklearnih-elektrana/220516087